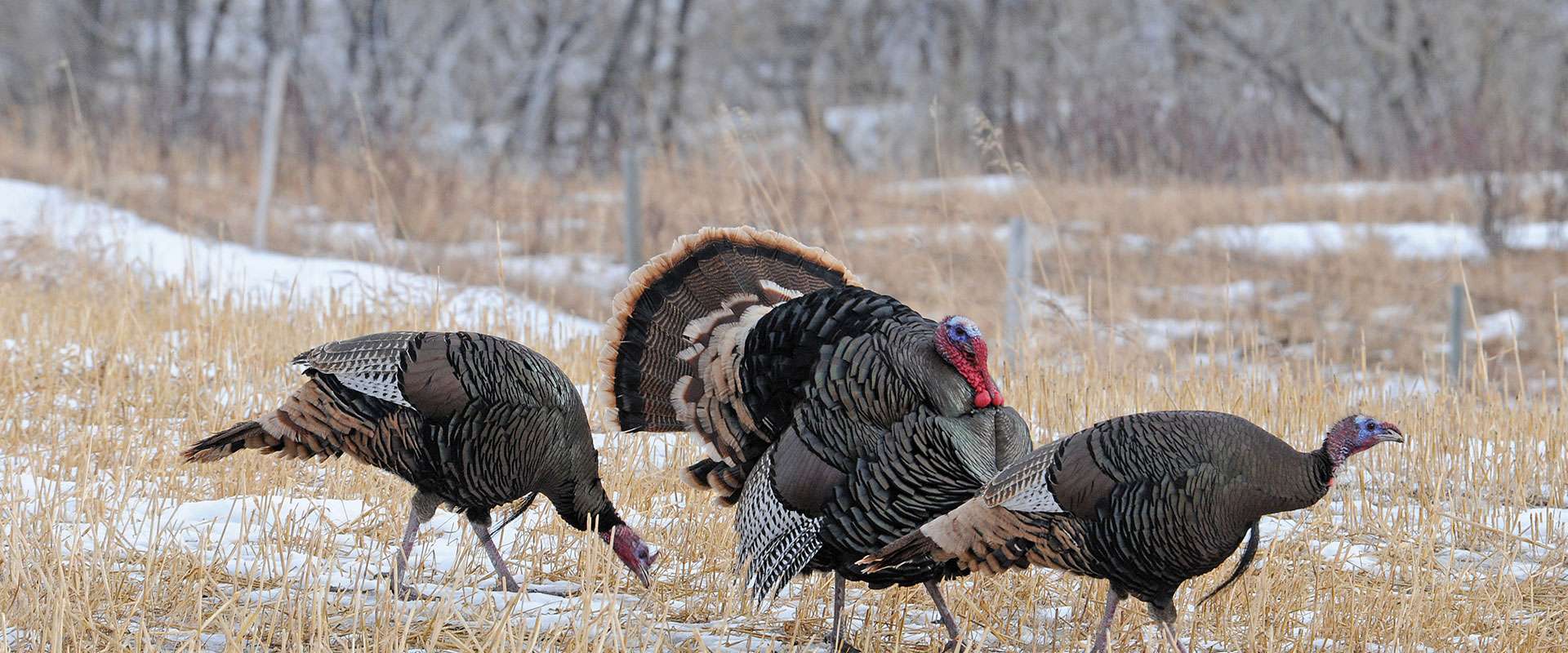 South Dakota Turkey Hunting
Archery turkey hunting in South Dakota is the ultimate bowhunting experience. We have Merriam's turkeys at Double K and we hunt thousands of birds on thousands of acres. Our success rate nears 100% every year and many hunters harvest multiple birds. If a bowhunter can't shoot a turkey with us, they probably couldn't hit water if they fell out of a boat. Our archery turkey hunts are 100% successful, so you can imagine how successful our shotgun hunts are.
If you want to hunt multiple birds, get licenses for South Dakota, Nebraska, and tribal tags, and hunt them all with Double K.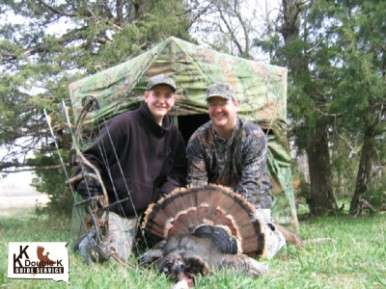 Archery Turkey Hunting
No matter if you're looking to hunt Merriam's for your Grand Slam, or you just want to try bowhunting turkeys, we have the experience and track record to make it happen.
Like we said on our homepage, we were named Bowhunter Magazine's archery camp of the year. You can be certain that our operation is trusted and respected in the world of bowhunting.
If you don't think you can shoot turkeys with a bow or you don't think you will be able to harvest a gobbler, watch our turkey hunting video and come on out...we'll prove you wrong !!!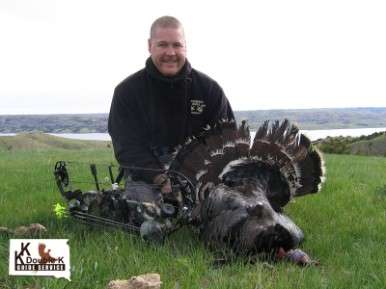 SD Merriam's Turkey Outfitter
Double K Guide Service is the definition of SD turkey hunter with his guidea "turkey hunting outfitter." Not only do we have great shotgun and archery turkey hunting, but we also provide guides, meals & lodging, blinds, decoys, transportation, and anything else you will need to get the most from your SD turkey hunt. Our success rates are extremely high for both shotgun and archery Merriam turkey hunts, but what really sets us apart form other turkey outfitters and guides is our total experience. Our turkey camp is always a "colorful" atmosphere and there is no doubt in our mind that you will enjoy this trip as much as any other turkey hunting outfitter you've hunted with.
Our Guides
Much of the credit for our high success rates goes to our experienced SD turkey guides. All of our guides are hard-core turkey hunters themselves. We simply could not be batting a thousand on our turkey hunts without our guides.
Besides having above-normal turkey hunting knowledge, our guides are fun to be around and will treat you with respect, regardless of your skill level. A guided turkey hunt with Double K Guides is one every hunter should try at least once.
Our Lodges
Our turkey hunting lodge is located in Gregory. We do have 3 other lodges in the area, but we generally only use the Gregory lodge. If you would rather stay at a separate lodge, that is fine with us. We can accommodate any size or type of group (couples, corporate groups, etc.). All of our turkey lodges are clean & comfortable, with full kitchens, multiple bathrooms and satellite TV. Take a look at our turkey hunting lodges page for photos and more information.